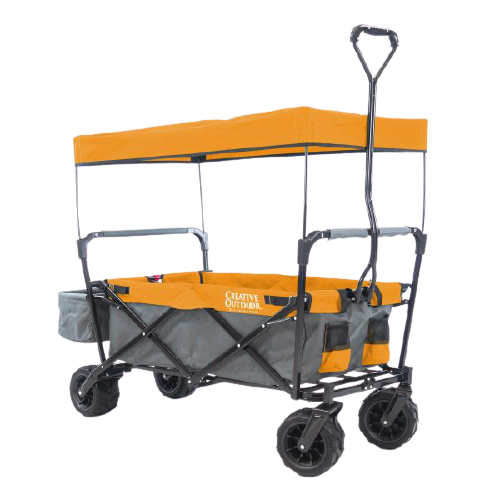 ALL-TERRAIN FOLDING WAGON WITH CANOPY | GRAY ORANGE
The brand new TITANIUM SERIES Push Pull Folding Wagon
comes standard with the following brand new features.
Shop Now
FOLDING WAGONS
From our famous push pull stroller wagons to our rugged big wheel all terrain wagons, we have a wagon that's just right for you. Take your children for a ride around the theme park or schedule a shopping spree. A much needed vacation at the beach or hauling tools and supplies around the garden. No assembly required. Unfold and roll!
See all products
Push and Pull Wagons Get the Job Done
Whether you're a family on the go or a busy individual, push and pull wagons are a fantastic tool to take the load off your day-to-day activities. Our Titanium series wagons can be pulled on one end or pushed like a stroller, depending on the weight of your load and your personal preference. Discover the incredible features of our wagons, from the sun-protecting canopy to the foldable frame, making storage that much easier. Plus, the Titanium series wagons include safety features such as foot-activated brakes on all four wheels, suspension springs, and seat belt harnesses for small riders. 
A Wagon for Everything
Our foldable wagons come in handy for a variety of activities and cargo. Here are some of the ways that a push and pull wagon can make your life easier:
Carry shopping bags at the mall or grocery store

Carry children, pets, or baby gear on family outings 

Carry resources for camping

Carry food, utensils, and blankets for a picnic

Carry sports gear for game days 

Carry products for trade shows and farmers markets 

Carry supplies to the office

Carry towels, foldable chairs, and other gear to the beach

Carry tools for gardening or other yard work 
A Wagon for Everyone
Depending on how you want to use your wagon, we have different designs and features within our Titanium series, Silver series, and All-Terrain series. Dimensions, color options, and specific features are listed for each wagon. Please see product descriptions for more details. Here are some of the features you can look forward to in our various wagon options: 
Sturdy, rubber tread wheels

360-degree front swivel wheels 

Foldable frame with locking latch

Removable canopy 

Locking foot-activated brakes

Two 3-point or  5-point child seat belt safety harnesses

Several storage pockets and pouches

Folding basket in the rear and removable soft-sided cooler

Rear door and removable/folding tray
If you're looking to enhance the use of your wagon, there are several add-on accessories that are available for separate purchase. Here are some of the compatible add-ons for our wagons:
Removable Rain Cover and Bug Net (sold separately) 

Inflatable Seat Cushion (sold separately)

Insulated Cold Weather Cover (sold separately)

Protective Cover for long term storage or travel (sold separately)

Soft-sided cooler bag (sold separately)

Extension tray (sold separately)

Replacement canopy or upgraded Titanium Series convertible canopy (sold separately)
The Path of Least Resistance 
Push and pull wagons offer convenience, freedom, and peace of mind. Finally, an efficient way to carry around all the things you need to get through your day! Our Titanium series wagons provide features such as a folding basket in the rear, storage pockets, 360-degree swivel front wheels, a locking latch, permanent folding tray, and rear door. This makes it easy for you to wheel around your precious cargo and ensures a nice, smooth ride for children, pets, gear, or anything else you need to transport. Once you're done with your wagon, you can simply fold it into a compact shape that will fit in your trunk, garage, or storage bin. Take the path of least resistance with your very own push and pull foldable wagon!